Oct
16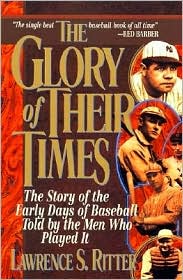 "Baseball is Going Back to the Dead-Ball Era"
This trend brings one back to the useful idiot Paul Volker, the great scholar and lover of baseball Larry Ritter, and Kora Reddy's excellent study, and our own work proving that doc Greenspan was no doc.
Stefan Jovanovich writes:
Jared Diamond knows as much about baseball as he does about "steel". The spirit of Larry Ritter–Bless Him–has to be laughing.
James Goldcamp writes:
I still recall fondly reading a worn copy of The Glory of Their Times as a young boy in the car on the way to my cousins in eastern Ohio. The old timer stories were mesmerizing. A copy of a more recent edition of that book still sits buried somewhere on an end table in my living room. It was probably the first non-fiction book I ever read.
I recently finished reading The MVP Machine which centers on the tech wave of player development which has swept over baseball (down to the "Hit Traxx" at my son's 11 year old team's training facility and the now banned for patent infringement Zepp sensor at the end of my son's bat). This wave has finally fully swept up on my shore as the hero of the aforementioned book Trevor Bauer is the centerpiece of my hometown team's starting rotation and the founder of Driveline baseball has been hired to run pitching.
One hopes the wave of technology adopted by baseball ends better than the hordes of hedge fund-ists and investors who found system trading or smart beta just before the long extended bull run in stocks.
anonymous writes:
Our daughter is an ambidextrous natural athlete who was accurately described, by the mother of a teammate on the 4×50 12 Under Relays as a "mound of muscle". By age 12, she was able to practice driving our "field car" by sitting in the passenger seat and steering with her left hand. We made her play basketball, run track and swim competitively because otherwise there was no living with her; to this day, if she does not have a 45-minute workout every morning, her excess of physical energy and the impatience that it brings with it is downright scary. For a few months earlier this year, we thought we had seen nature come to our rescue. Her now 9-month old son has the same internal combustion engine. His nickname, Whumpa, was acquired before birth; and, while other infants seem able to be awake without needing to do calisthenics, Whumpa has only two speeds: Full Throttle and Full Stop. For a while it looked like Walter was actually wearing his mother down. But that was only a phase. The two of them now happily go off to exercise together.
I mention this to give you all the background to my only disappointment as a father. It was the day, when she was 6, that, after playing catch with me with a tennis ball, using first the left and then the right hand, she announced, "this is no fun; let's go running." Like John Kruk I am not and never have been an athlete, I love baseball and I have always hated running.
Congratulations to JG on having a baseball player and an athlete and embracing the technology that is making modern baseball such a marvel.
James Goldcamp writes:
Anonymous, the last part (the Kruk quote with which I'm familiar and use sometimes) resonates with me. I'm one of the coaches on my son's team. At various tryouts for our teams I'm notorious for wanting to get past the timed running from home to 1st, 1st to third, etc. that is typically part of an evaluation and "just see them hit live pitching". I was pleasantly surprised while watching a Ted Williams biography hear recounted a story where some players or coaches were discussing the intricacies of a pickle or some such situation, apparently Williams was claimed to have said, when asked to ponder this, something like "#@#! it , let's go hit". Bill Beane was also purported to have said (as recounted in Moneyball) that we usually no player is too fat for us to draft, though we made an exception for Prince Fielder, and we were wrong.
Comments
WordPress database error: [Table './dailyspeculations_com_@002d_dailywordpress/wp_comments' is marked as crashed and last (automatic?) repair failed]
SELECT * FROM wp_comments WHERE comment_post_ID = '12547' AND comment_approved = '1' ORDER BY comment_date
Archives
Resources & Links
Search